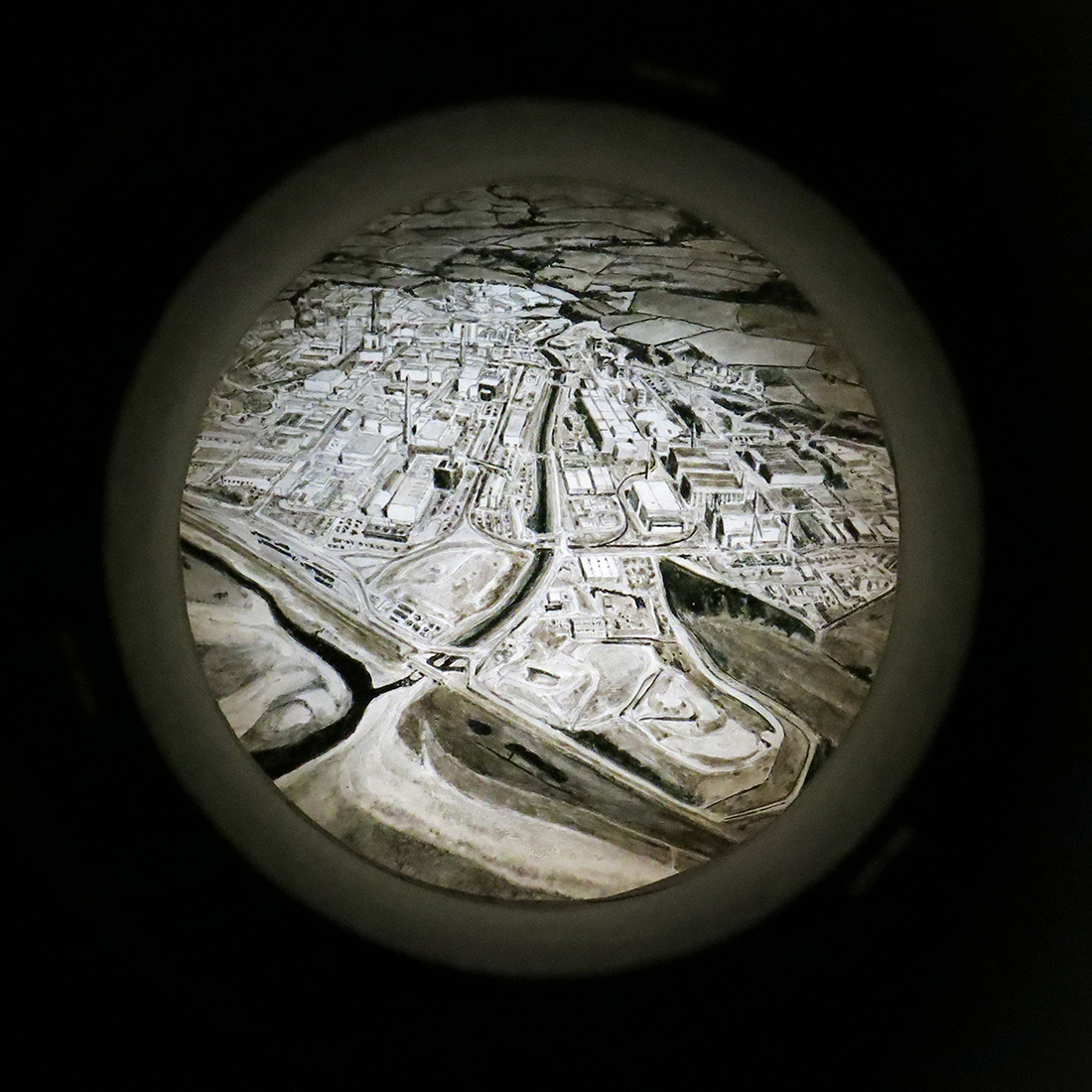 Title of work 24,110 year view
Date of work 2018
Medium Sculpture & Drawing - Acrylic, cardboard, ink, paper, wood
Dimensions 126cm x 26cm x 26cm
Exhibited Venue Thamesmead Information Hub, Tokyo Art Lab (Japan)

The Thames near Thamesmead is the historical centre for the British naval defence industry, with the site at Woolwich Arsenal now being redeveloped for housing. Walking through Thamesmead Town centre, many military Cannons are noticeable, pensioners are sitting on them, chatting and smoking, children are playing, riding them like horses or in the playground. There are more cannons beside the river. They are part of landscape and seem nothing to worry about in the 21st Century.
A recent journey to West Cumbria where Sellafield is located showed the legacy of war in a different way. Sellafield produced plutonium that was vital for the post war 'defence' industry in order to manufacture nuclear weapons. Sellafield is the largest and most hazardous nuclear site on the Nuclear Decommissioning Authority (NDA) estate. The NDA is responsible for operating, decommissioning and cleaning up 17 nuclear reactors and research sites in the UK. It includes removing and managing contaminated waste, and decontaminating and dismantling legacy facilities. The NDA estimates that this work will be completed by 2120, at an estimated cost of GBP 121 billion and rising. The area around Sellafield is still dominated by this huge site and seems struggling to recover. Unlike the cannons it could be an astronomical number of years before any children or older people can approach it.

This work was created for Thamesmead Texas exhibition curated by Scully & Scully.